Ways to Volunteer
Friends of FSH Research depends on volunteers for almost every aspect our work. Volunteers bring energy and new ideas, and have the satisfaction of actually making a difference.
If you are interested, please send us an email to .
Board of Directors
If you are passionate about making a large impact on medical research, have leadership experience, and are keen to help our organization fulfill it's mission you might consider serving on our Board of Directors.
Auction Committee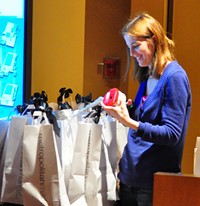 Our auction is the must attend event of the year in the Pacific Northwest, and is our largest source of revenue for funding innovative medical research. An event of this magnitude requires volunteers on all levels.
Fundraising Committee
Our fundraising committee helps organize our annual campaign, events, and all non-auction revenue.
Scientific Advisory Board
Our Scientific Advisory Board helps carry out our scientific agenda, ensuring we are performing due-diligence and accurately reporting our research funding.
Run a fundraiser
If you live outside of the Seattle area (or in it) there is no better way to help us towards a treatment or cure for FSHD than to help us organize a fundraising event. Please call us or e-mail us, and we'll help you achieve success in fundraising with our best-practices guidelines.