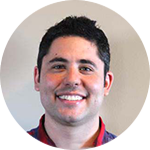 VP Corporate Development
Universal Cells & Astellas Pharmaceuticals
Dr. Gregory Block is Vice President of Corporate Development at Universal Cells, and Director of Business Development, Regenerative Medicine, at Astellas Pharmaceuticals. As the first member of Universal Cells, Dr. Block helped build and grow the company in part through strategic licensing and alliance management leading to the company's acquisition by Astellas.
Dr. Block holds a doctorate in Molecular Biology from Tulane University in New Orleans and a Masters of Biochemistry from the University of Toronto, where he studied the mechanisms of stem cell tissue regeneration and chromatin organization, under Dr. Darwin Prockop and Dr. David Bazett-Jones respectively. He completed his postdoctoral fellowship at the University of Washington where he discovered mechanistic insights and established the first cellular assays for measuring the underlying genetic defect for Facioscapulohumeral Muscular Dystrophy (FSHD). Dr. Block has since served on the board of directors and scientific advisory board of Friends of FSH Research, an organization devoted to finding a cure for FSHD.
Dr. Block is also an advisor to Creative Destruction Labs, a Canadian organization devoted to helping young companies scale massively.
He can be reached at greg@fshfriends.org.